Protected PCI
Patient Identification
Which Patients May Benefit from Protected PCI?
Impella® heart pumps may provide safe and effective hemodynamic support in elective and urgent high-risk PCI for a broad range of patients with complex coronary artery disease, hemodynamic compromise and comorbidities.
Patients benefit from this minimally invasive option that may:
Enable more complete revascularization1
Reduce symptoms and class of heart failure2 and improve LVEF1
Significantly reduce the overall incidence of post-procedural acute kidney injury (AKI)5
Reduce number of days in the hospital3,4
Significantly reduce post-discharge MACCE events (composite of death/stroke/MI/repeat revascularization)6
Surgical Turndown is Common and Associated with Higher Mortality
Protected PCI may be an option when surgery is not. Consider Protected PCI for patients who are considered too high-risk and therefore turned down for surgery, and for patients who decline surgical treatment.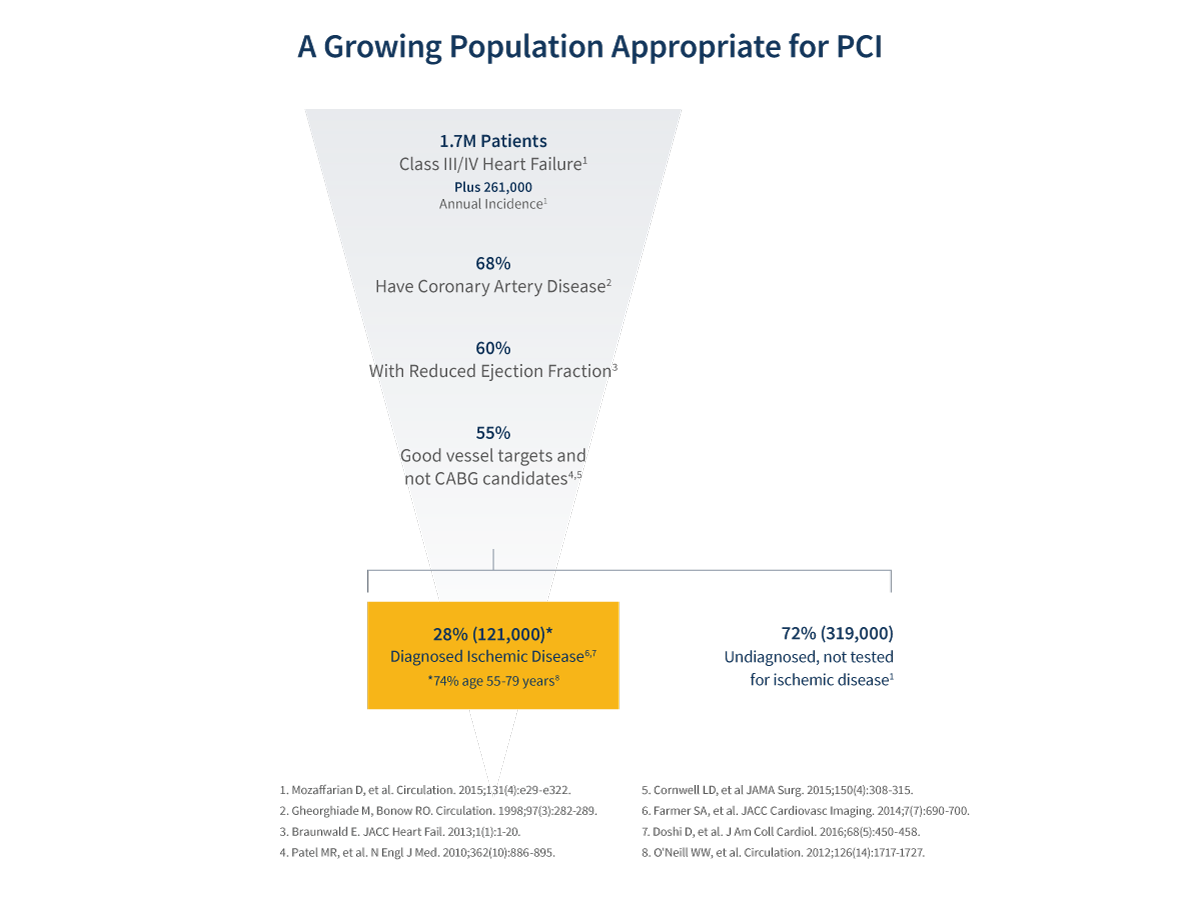 Underdiagnosed & Undertreated
Many patients with severe, symptomatic CAD remain untreated or undertreated due to comorbidities, increased risk of AKI or hemodynamic compromise. Protected PCI may be an option for these patients to help.
Impella Supported Nonemergent High-risk PCI
Samin Sharma, MD, discusses his algorithm for selecting patients for high-risk PCI.
LVEF Improvement After Complex CHIP Case with Impella Support
Rustem Dautov, MD, presents the case of a patient turned down for surgery and successfully treated with Impella CP® heart pump.
References
Burzotta, F., et al. (2019). J Interv Cardiol, 2019(5):1-10.

O'Neill, W.W., et al. (2012). Circulation, 126(14), 1717-1727.

Gregory, D., et al. (2013). Am Health Drug Benefits, 6(2), 88-99.

Maini, B., et al. (2014). Expert Rev Pharmacoecon Outcomes Res, 14(3), 403-416.

Flaherty, M.P., et al. (2017). Circ Res, 120(4), 692-700.

Dangas, G.D., et al. (2014). Am J Cardiol, 113(2), 222-228.