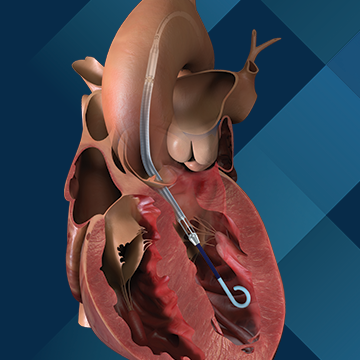 Impella CP®
with SmartAssist® Heart Pump
Percutaneous insertion, increased flow and intelligent patient management
Stabilize. Unload. Recover.
New dimensions for your patient management
Learn more about the next generation of heart recovery and benefit from its many advantages in the field of patient management.
Reduce potential complications with the help of the single-access approach and a new design of our dilators.
Impella CP with SmartAssist is intended for percutaneous and axillary access and offers a wide range of applications.
The SmartAssist platform offers you with Impella Connect the remote monitoring of your patients 24/7.
New Insertion Techniques for a better Clinical Outcome
Use of single-access approach
New tapered dilator 
Improve Clinical Outcomes using the SmartAssist Platform
Remote support with Impella Connect
Advanced Metrics on the AIC
Assists with positioning, management, and weaning
Increase User Experience by:
Improved 14F Peel Away Sheaths
Improved Position Stability & Ease of Use
Purge Wizards & higher flow in the Cath Lab
Faster Set-up and Faster Case Start through Step by Step Instructions on the AIC
Improved Hemodynamic Support through Increased Positional Stability
Axillary Insertion with Impella CP with SmartAssist
Designed to Improve Patient Outcomes
Technical Overview
The Impella CP with SmartAssist heart pump allows for sustained peak flows of up to 4.3 L/min (achieved during the systole). It is designed to improve patient outcomes by using real-time intelligence to optimize positioning, managing and weaning of Impella® pump.
Safe positioning: New sensors support the handling and positioning of the Impella CP
Pressure detection in the aorta by means of an optical sensor
Microaxial motor detects pressure difference between aorta and left ventricle
Download Additional Resources
Optimized Pump Management - Benefits of SmartAssist Platform
Secure, cloud-based, remote monitoring of Impella® devices' status for better patient outcomes
Indication and Safety Information EU
INDICATIONS FOR USE EU
The Impella CP with SmartAssist® (intracardiac pump for supporting the left ventricle) is intended for clinical use in cardiology and in cardiac surgery for up to 5 days for the following indications, as well as others:
· The Impella is a circulatory support system for patients with reduced left ventricular function, e.g., post-cardiotomy, low output syndrome, cardiogenic shock after acute myocardial infarction, or for myocardial protection after acute myocardial infarction
· The Impella may also be used as a cardiovascular support system during coronary bypass surgery on the beating heart, particularly in patients with limited preoperative ejection fraction with a high risk of postoperative
low output syndrome.
· Support during high risk percutaneous coronary intervention (PCI)
· Post PCI
CONTRAINDICATIONS EU
· Mechanical aortic valves, severe aortic valvular stenosis or valvular regurgitation
· Hematological disorder causing fragility of the blood cells or hemolysis
· Hypertrophic obstructive cardiomyopathy (HOCM)
· Aneurysm or necrotomy or severe anomaly of the ascending aorta and / or the aortic arch
· Mural thrombus in the left ventricle
· Ventricular septal defect (VSD) after myocardial infarction
· Anatomic conditions precluding insertion of the pump
· Other illnesses or therapy requirements precluding use of the pump
· Severe peripheral arterial occlusion disease (PAOD) is a relative contraindication
POSSIBLE COMPLICATIONS EU
There are risks of complications with every procedure using a blood pump. These include among others:
Dazu gehören u. a.:
· Hemolysis
· Bleeding
· Immune reaction
· Embolism, thrombosis
· Vascular injury through to angionecrotomy
· Positioning problems
· Infection and septicemia
· Dislocation of the pump
· Cardiovalvular injuries due to extreme movement of the suction cannula in relation to the cardiac valve or
as a result of attachment by suction of the pump to the valve system following incorrect positioning
· Endocardiac injuries as a result of attachment of the pump due to suction
· Pump failure, loss of pump components following a defect
· Patient dependency on the pump after use for support
In addition to the risks above, there are other WARNINGS and PRECAUTIONS associated with Impella devices.
For more information please see the Instructions for Use Manuals.